Read Time:
2 Minute, 12 Second
This week, Cliff Auger, the CST Chair and Paul Hay, board member, visited The Hammersmith and Fulham Foodbank storage centre.
The H&F Foodbank hand out emergency food to people in crisis as well as providing additional support and advice.
They rely on donations to enable this much needed service. As Chelsea FC is located in the London Borough of Hammersmith and Fulham, the CST is delighted to be able to help.
For the last four seasons, the CST has staged regular collections of food on match days. The generosity of Chelsea supporters has seen 100s of kilos of foodstuffs collected. Many supporters have also donated cash into the collection bucket. Last season saw us collect over £400.
We have used this money to buy extra food, and this was delivered this week.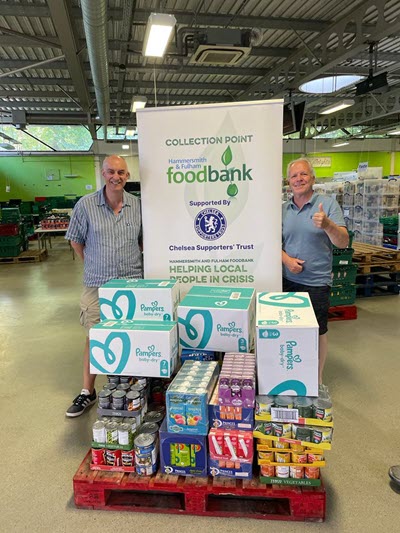 We were met at the collection centre by Steve, the warehouse manager and delivery/collection driver, who works at the main storage centre, close to Hammersmith.
Steve showed us around the impressive centre explaining how the collected food is stored and organised before being distributed to four locations for those in need.
The food they need should be non-perishable and within date. It is sorted into various categories to make up food parcels ready to be distributed across the borough. A food parcel contains a minimum of three days of nutritionally balanced dried foods and typically includes: breakfast cereal, soup, pasta, rice, pasta sauce, baked beans, tinned meat, tinned vegetables, instant mash, UHT milk, tea, coffee, sugar, tinned dessert and biscuits.
They can also provide nappies, baby food and toiletries.
The recipients of the food parcels will have been referred by various organisations and agencies such as council offices, schools, health workers and Citizens Advice.
They provide a vital lifeline for those in need and the CST are delighted to be able to help in our own small way. We aim to collect before every weekend afternoon home game. Our collection point is located by the gates of the Stoll building on Fulham Road between Fulham Broadway station and Stamford Bridge. Look out for our banner. Typically, we will set up 3 hours before kick off. Our first collection will be the home game against Spurs on 14th August.
Thank you, once again to all our supporters who have donated so far.
For more information about H&F Foodbank, please see their website at :
https://hammersmithfulham.foodbank.org.uk/
If you, or somebody you know needs help, please see here for details
https://hammersmithfulham.foodbank.org.uk/get-help/how-to-get-help/
You can contact them here
https://hammersmithfulham.foodbank.org.uk/contact-us/