What is the Chelsea Supporters Trust?
A fully democratic, FCA registered incorporated society, affiliated to the FSA;
A non-profit making Supporters Trust, with membership open to all Chelsea Football Club supporters worldwide;
Wholly independent of Chelsea Football Club, but seeking an ongoing, proactive and pragmatic dialogue with them;
Run on a democratic one member, one vote principle with annual elections to the CST board and regular member meetings, both in person and virtually;
An organisation whose priorities are decided by their membership, based on detailed membership surveys, the results of which are also presented to club executives;
Committed to proactive and mutually beneficial dialogue with the club and other stakeholders including the local community, local council, relevant media, football authorities and other supporters groups;
Committed to working with identified local charitable organisations to raise funds and raise awareness;
Providing an opportunity for all Chelsea supporters to talk to the Club with a unified and co-ordinated voice, with democratic and worldwide representation. We also liaise with other Chelsea supporter groups, websites, fanzines and podcasts as appropriate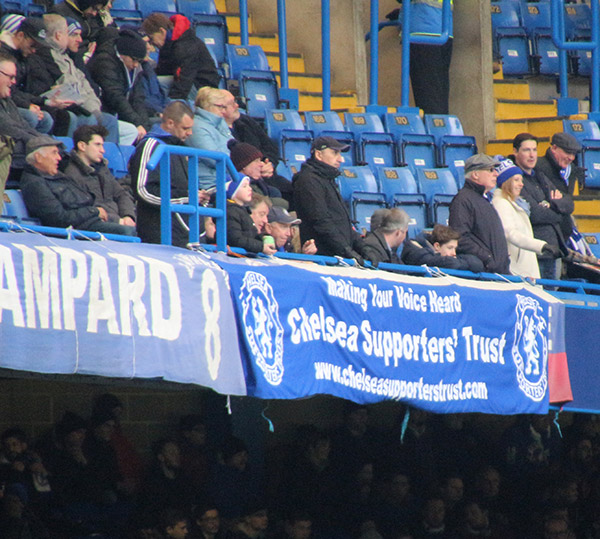 Our Aims
To encourage the board of Chelsea Football Club to take into account the interests of all Chelsea supporters (both UK and Overseas based) and of the local community when making decisions that impact upon them;
Work with the Chelsea FC Supporter Liaison Officer and other club representatives, as appropriate, to represent supporter interests on specific issues as they arise, and to follow through issues as appropriate. This includes, but is not restricted to issues such ticket pricing and allocation and matchday problems experienced by supporters;
Act as an effective means of communication between club and supporters;
Actively and professionally engage with all relevant external stakeholders on matters of interest and concern to Chelsea supporters;
Professionally represent the views of our members to national and local media.
Work with Chelsea Pitch Owners (CPO) on matters of mutual interest and to help promote the sale of CPO shares;
Where appropriate to work in partnership with other Chelsea supporters groups, websites, fanzines, podcasts, blogs etc;
Communicate with our members through our website, social media and our regular newsletter;
Ensure that our members interests are represented as part of our input into the recently constituted Chelsea FC Fan Advisory Board;
Work with the FSA and Supporters Trusts at other clubs on pan-club issues like ticket prices, fixture scheduling etc.
We welcome input from Chelsea Supporters 'wherever you may be' so come to the meetings or contact us directly to let us know what we can do on your behalf.
Make Your Voice Heard Too!