Read Time:
6 Minute, 56 Second
Chelsea Supporters' Trust
SGM 15th April 2023 at Under The Bridge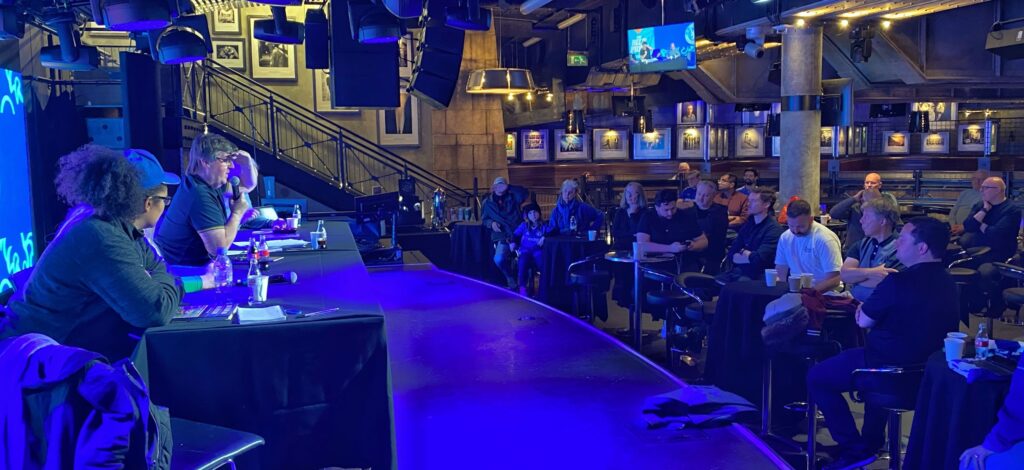 Introduction from Chair Mark Meehan (MM)
Thanking outgoing Chair Cliff Auger (CA), for his achievements, MM went on to introduce fellow CST Board members Ben Williams (BW), Gillian Bromfield (GB), Debs Coady (DC) and Co-optee Diane Akers (DA).
Apologies for absence from board members Dom Rosso, Paul Hay, Dan Silver and David Chidgey plus Co-optees Stuart Kinner (Treasurer), Tim Rolls, Kweku Amonoo-Quyst, and Robert Blaszczak.
MM gave a summary of issues over the recent past; European Super League, Club sanctions, new owners plus ongoing issues around ticket sales, prices, ignoring supporters eg kick off times (Arsenal game case in point).
MM explained Trust's call for a shadow board and Tracey Crouch's Fan Led Review. The Trust continues its own dialogue with the club and hopefully via the soon to be formed Fans Advisory Board (FAB).
The Trust continues to raise with the club issues around ticket prices, the ticketing process, the loyalty points system, women and men's games coach travel, loyalty of supporters, kick off times and community work, to name a few.
One of our long standing asks is a supporter place on the local Safety Advisory Group (SAG). We will continue to push for this access.
With regards the new stadium, it is hoped to bring Hugh Rosen's plans to the attention of the membership at some point soon.
MM advised that the CST have invited Board Members Danny Finkelstein and Barbara Charone to a SGM meeting. Both had said they would like to attend a future meeting.
MM asked whether members thought Under The Bridge worked as a meeting venue and welcomed feedback.
Cliff Auger (CA) gave a rundown of the Trust's community work
Match day food bank collections outside the entrance to the neighbouring Stoll site continue and are very much appreciated.
Our recent Stamford Bridge Sleep Out campaign was a great success and over the years since the first one, we have raised over £100k for the Stoll Veterans. The Just Giving page for donations is still available:

The Big Stamford Bridge Sleep Out 2023 – JustGiving

We continue to support the Over The Line mental health initiative aimed especially at football supporters, many of who are male and less likely open up. The Club are open to ideas on this and have very much taken a 'can do' attitude on the subject. We are hopeful that the club can provide a match day hub for supporters wishing to seek time out and further help, and we hope to provide more information in a few weeks.
There is continuing good work on our club heritage. The club have agreed to fund Nathan Whitehouse's costs incurred on his research for the Chelsea Graves Society. We are hoping that match day heritage events can take place in time for next season.
We are doing more work on issues affecting disabled supporters, especially with DA on board.
Mark Meehan (MM) opened the floor to questions
Nathan Whitehouse asked if money offered by the club will cover all his costs. CA replied that agreed costs included subscriptions and grave maintenance so long as invoices were provided. CA also detailed plans for accessible memorials for both past players and supporters, although probably something for a new stadium.
A member asked whether there was news of ticket price increases. MM replied no but also said that CST have written to Chelsea FC about ticket prices for next season. The club have acknowledged letter to Todd Boehly and the Board that outlined our concerns, and have advised they would like to meet with us soon .
A member also asked about the new stadium, there has been a lot of speculation about the Earl's Court site. MM advised that it would not be appropriate to comment on any speculation but suggested members might wish to follow up and research the Earl's Court Development Company if they wanted to know what their plans are for Earls Court, which don't include a football stadium.
A loyal club member since 1996, a member was concerned about the lack of tickets available. MM advised that a new ticketing survey of CST members is due to drop soon. He asked for as many Members as possible to complete the survey as the results which will be shared with Chelsea FC.
There was a discussion about the different types and levels of loyalty. Also discussed limited availability of concession tickets around the ground although it was something that might not be resolved until we have a bigger stadium.
Another member raised issue of disparity of ticket prices between areas and also secondary ticketing agencies. He has had issues with the VWR also.
MM urged members it was important at all times to raise VWR issues with the club so they can't claim there are no issues! GB also urged members to take screen shots of error messages too and think about copying in the Trust on these queries to the club.
MM suggested it would be good to have these discussions as a Q&A with Club ticket office staff.
There was a discussion around how the CST, CPO and FAB would work together.
A member raised the issue of his difficulties selling his Westview season ticket seat on the Ticket Exchange because it's only sold within Club Chelsea and therefore restricts the sale opportunities.
MM asked that he should email the club on this matter and copy in CST but also to speak to one of the Board members after the meeting.
A disabled member stated that he thought UTB was an unsuitable venue for disabled members and also congratulated the Club for their half time mental health initiative. However, he suggested that the club could have given out a card with the details to all supporters promoting the good work of The Samaritans as the event appeared to have little advance publicity.
A member also urged caution to the CST that to continue to promote role of the supporters, the club should not be beyond criticism just because they allow us to use club facilities such as UTB.
MM advised that he sees his role and the role of the CST to promote Chelsea FC and Chelsea Supporters, to provide a forum for supporters to voice their opinions and feedback to Chelsea FC on supporters' behalf. CST should work and co operate with Chelsea FC on supporters matters but should reserve the right to challenge or criticise any decisions that are not in supporters' interest.
Also, the CST has regularly made use of Club premises for various meetings for many years, especially the AGM.
MM thanked members for their attendance and questions, closed the SGM meeting and welcomed :

Garry Hayes and Ceri Levy from The Chels Podcast
to talk about their new project: The Blueprint: How Chelsea FC changed Football. A brand new narrative podcast series covering the rise of Chelsea FC and the club's role in shaping modern football.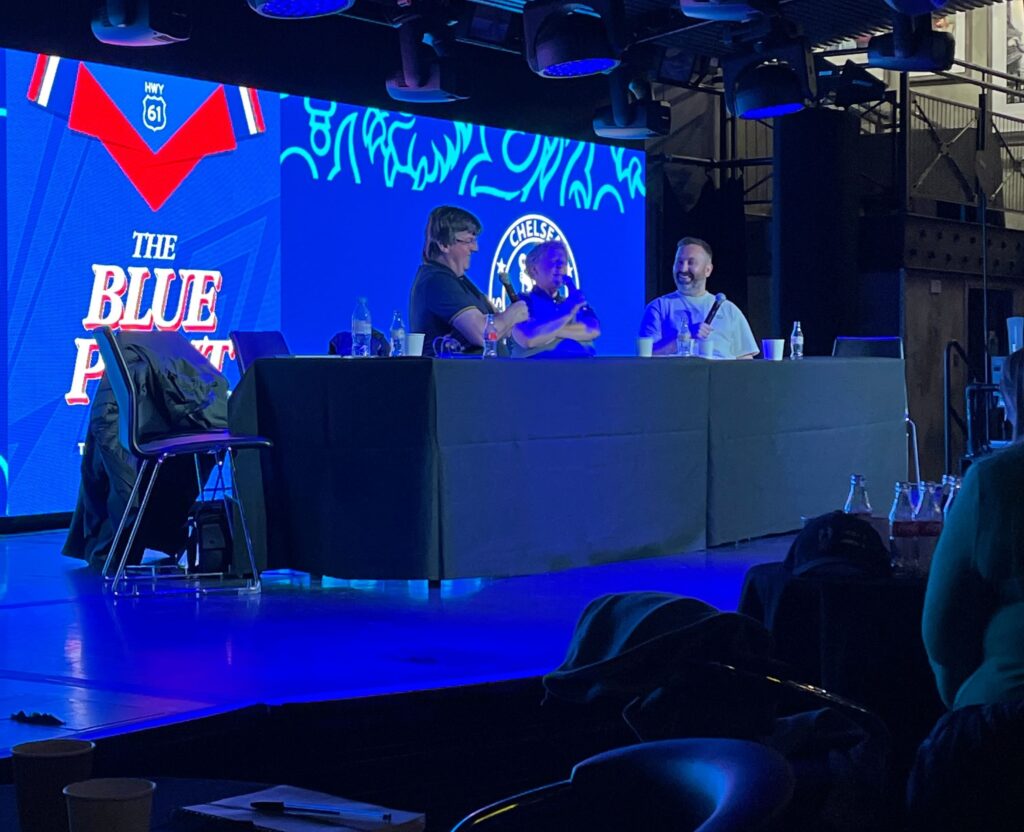 From fearing for their very existence to conquering Europe and winning the Champions League all within two decades, the story of modern Chelsea FC is unlike any other. The Blueprint tells the inside story of how the club has shaped modern football.
From the boardroom to the dressing room, the press room to the terraces, key figures who played their part or watched history being made before their very eyes, open up and reveal all in this narrative podcast series.
Featuring Frank Lampard, Ken Bates, Jody Morris, Petr Cech, Gary Cahill, Paul Clement, Scott Minto, Tore Andre Flo and many more.
Garry and Ceri talked about The Blueprint, the people they have interviewed, players, staff and fans and key people to the Chelsea story. They have dropped their Ken Bates interview already which can be found at link below and shared some stories from that four hour interview as well as how they tracked some interviewees down particularly Chelsea legend and former manager Roberto Di Matteo.
The Blueprint is must listen for all Chelsea fans. For details go to:
The Blueprint: How Chelsea FC Changed Football on Apple Podcasts