Read Time:
2 Minute, 4 Second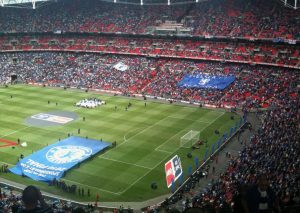 Following the meeting last week between senior FA executives and fan representatives from the teams competing in this season's FA Cup semi-finals regarding ticket pricing for the semi-finals and final, the FA has confirmed a number of changes to its previous approach.
Concessionary tickets will now be charged at £25 off the full adult rate for categories A and B for this year's final. Concessions for categories C and D remain at £10 off the full adult rate.
The FA has committed to review the price bandings behind the goals in Level 1 of Wembley stadium, in collaboration with fan representatives, for the 2018-19 semi-finals and final in recognition of the contribution fans in those areas make to the spectacle and atmosphere.
There is a commitment to evaluate the feasibility of introducing a more accessibly priced family area for the 2018-19 semi-finals and final.
The FA has committed to keep prices in line with inflation until 2021.
The movement on concessions for this year's final is to be welcomed, as is the commitment to address the wider issues we raised ahead of next year's competition. We are obviously disappointed that the other decisions taken for this year's competition will stand, meaning fans face significantly higher costs. And while the pledge to keep future price increases below RPI until 2021 is progress, we still believe tickets are priced too high and that ticket price inflation has been too steep. The FA's income from sponsorship and broadcasting linked to the FA Cup will increase significantly from 2018-19 and we expect to see some of that invested in loyal fans whose support is vital for the spectacle that those sponsors and broadcasters are investing in.
Football ticket pricing is not an ordinary competitive market. It is a monopoly and the FA, as the game's regulatory body, should be setting an example by rewarding fans' loyalty.
What we are encouraged by is the FA's acknowledgement that this year's decisions should not have been taken without proper consultation with supporters. And so we welcome the commitment to discuss pricing for subsequent competitions properly with supporter groups.
The test of that commitment will come as discussions play out. The FA now has the chance to set the standard for genuine consultation that enhances the reputation of the FA Cup, a competition fans continue to hold dear.
Chelsea Supporters' Trust
Manchester United Supporters' Trust
Southampton Fan Groups
Tottenham Hotspur Supporters' Trust