A huge thank you to all who donated to the Chelsea Supporters Trust collection for the Hammersmith and Fulham Food Bank before the Leicester game on Saturday. Your generous donations meant we were able to fill up 3 trolleys of much needed food and toiletries. This be will much appreciated by those in need this Christmas. Aside from all the items there were some very generous cash donations too.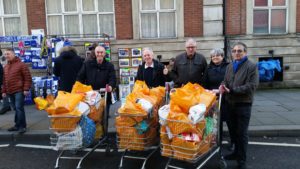 Well done to Trust board member, Cliff Auger, who is the driving force behind this great initiative.
Thank you also to Sainsbury's in Fulham Broadway shopping centre for letting us borrow their trollies, and Chelsea FC for enabling us to store the collect food inside the ground.
Please look out for our next collection which will be before the FA cup game against Forest on Jan 5th
For further information about Hammersmith and Fulham Food bank, visit their website or find them on Facebook and Twitter.