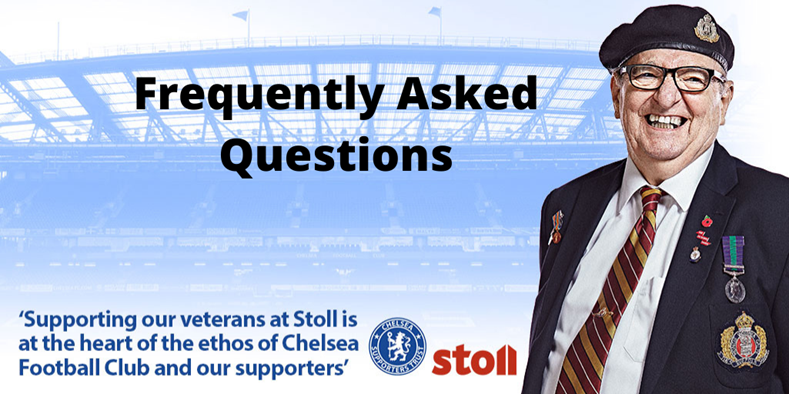 1. How do I register for the event ?
A. To attend the Sleep Out in person at Stamford Bridge
please click on this link to register that you would like to take part.
2. How do I create my own Just Giving page ?
A. You can raise money by getting sponsored through your own Just Giving page. This is easily achieved by going to our main Just Giving website and clicking the "Start Fundraising" button.
You can find full, step-by-step instructions here.
3. How much do I need to raise ?
A. All donations are welcome. However, as spaces are limited, we ask all participants to raise at least £50
4. What do I need to take on the night ?
A. Ensure you take along a sleeping bag and a pillow. You will be sleeping under the East Stand concourse. It will be covered, however, it is still outside so there will be no heat. Therefore, take clothing suitable for the temperature. Remember that the temperature can get much colder during the night. We will do our best to ensure there is enough cardboard available so you do not have to lie directly on the concrete floor. Feel free to take your own mat if you wish.
5. What time should I arrive ?
A. Please arrive by 9pm. CST representatives and security will be on site earlier.
6. Can I park my car ?
A. Chelsea are kindly offering us free car parking at Stamford Bridge for the night of the Sleep Out.
If you are going to be driving in, you need to have your car registered with Security. To do this, you just need to send me an email at [email protected] and let me know :
• Name :
• Make and model of car :
• Registration number :
I will then send on the details to security.
Please note the maximum hight for entering the car park for a vehicle is 2m
Also note that Stamford Bridge sits inside the London Ultra Low Emission Zone (ULEZ). So check if you need to pay a charge for your car.
7. Will it be safe ?
A. Chelsea will be providing manned security throughout the event. Only the security officers and other attendees will be onsite. However, you should be still careful about keeping any possessions out of site, and not taking any valuables with you.
8. Will I be able to charge my phone/ipad etc. ?
A. There will be no power points available so it is best to ensure you have fully powered up your phone in advance or take a portable charger with you.
9. Will Food and Drink be provided ?
A. Chelsea will kindly provide teas, coffees and water throughout the night. In the morning breakfast will also be provided. You are welcome to take your own small snacks or fruit with you. Please note, alcohol is not allowed.
10. I need to take medication
A. Please let us know in advance so we can advise the club. Ensure you take enough to last you through the night.
11. I cannot make it in person to the Sleep Out, can I still participate ?
A. Yes! You can always sleep out in your own way at home. You can then create your Just Giving page in the same way. Please let us know that you are doing this so we can ensure we keep you updated with news.
12. I do not live in the UK. Can I still set up my fundraising page through JustGiving?
A. Yes. The same link will work for everyone!
13. Can my friends and family donate in a different currency?
A. They can, however the donation will appear on your fundraising page in GBP.
14. I would rather not create a fundraising page. How else can I raise money?
A. You can collect your sponsorship money in your own way, such as by using this sponsorship form we have created here and pay your collected sponsorship on to our campaign page, by clicking here.
15. I have a question that is not answered here. How can I contact you ?
A. Any questions you have, please do not hesitate to email us at [email protected]