Read Time:
1 Minute, 1 Second
Our next Special General Meeting (SGM) will take place on Sunday 23 October 2016, 6.30pm upstairs at The Atlas PH, 16 Seagrave Rd, London SW6 1RX, immediately following our home game against Manchester United.
We plan to kick off proceedings promptly at 6.30pm and to conclude official business by approximately 7.30pm. At the meeting we aim to bring news of recent Trust activities, including our latest membership survey results. An agenda should be available nearer the time.
The meeting will be recorded and posted as a podcast shortly afterwards by the Chelsea Football Fancast, and we are also hoping to broadcast the event live, technology permitting!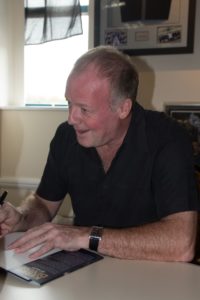 We are also extremely delighted to announce that Chelsea legend Kerry Dixon will be joining us for the meeting, and for an hour or so afterwards to chat about his exploits and to sign a few copies of his new book Up Front, available to buy on the night.
Please come along and find out what's happening with the issues that matter to you. And to meet Kerry of course!
This is a Chelsea Supporters Trust members only event. You can sign up on the door, or join us through our web site here.