Read Time:
1 Minute, 9 Second
The Chelsea Supporters' Trust would like to say thank you for the incredible generosity that not only Chelsea supporters, but supporters from many other clubs have shown in helping us reach our initial target so quickly.
The crowdfunding site will remain open until July 4th and we welcome donations going forward which in addition to funding the memorial to Jack Whitley will help to support the CST Brompton Cemetery Clean Up Group.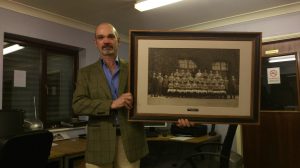 We are delighted to announce that Rick Glanvill has managed to track down Jack Whitley's Granddaughter, Sylvia and her son Andrew (Jack's Great Grandson). She is absolutely delighted the Chelsea connection has been made and they have some very nice photos of Jack in his Chelsea days which we hope to share with you at some stage. We are hopeful that both Sylvia and Andrew will be attending the stone setting on the anniversary of Jack's debut this September.
Which brings us to the next phase once the crowdfunding campaign closes in July. Your donations will help us to pay the fees relating to the plot at Brompton, at which point we will finalise the stone, the inscription and memorial mason to be used.
Once the fixtures are out in June we can look at setting a date as close to the anniversary of Jack Whitley's debut (23rd September) as possible.