Read Time:
1 Minute, 48 Second
The next CST 'Virtual' Special General Meeting will be held at 7:30 pm on-line via www.mixlr.com/chelsea-fancast on Thursday 22nd June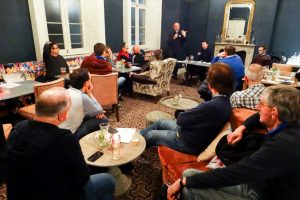 For our final Special General Meeting of the season we will be holding a 'Virtual' meeting as a live broadcast on-line.
This gives members who have been unable to attend SGMs this season in person a chance to hear what the Trust has been engaged with on their behalf and to ask questions via email beforehand or on the chat page whilst listening in.
We are currently busy collating the answers to the Annual Survey and we will have Ramzi Shammas on hand to provide us with an update. The survey finishes on June 30th so if you have not completed it yet please go to https://www.surveymonkey.co.uk/r/CST-survey-2017
Richard Weekes will talk about the Trust's various activities to improve the Atmosphere at Stamford Bridge and Dan Silver will be reporting back and answering questions about our links with overseas members.
You can participate in the meeting by listening live at www.mixlr.com/chelsea-fancast available on your computer, phone or tablet (using the mixlr app). We will be answering questions on the night but if possible would request that questions be sent in advance to [email protected] using "VGM" as the subject line.
Virtual Special General Meeting
Thursday 22nd June at 7:30 pm
On-line via www.mixlr.com/chelsea-fancast.
AGENDA
Introduction
Chairman's Report
Updates on progress and actions:

Atmosphere (Richard Weekes)
Membership Survey (Ramzi Shammas)
Overseas Membership (Dan Silver)

Questions from CST members – We would welcome questions in advance to

[email protected]

using "VGM" as the subject line, by Thursday 22nd June (1.00pm) to allow the panel to review and research your answers prior to the meeting.
Any Other Business
Close
It is anticipated that the formal meeting (including the Q&A) will end by 9.00pm at the latest.
You will be able to listen to the meeting and ask questions online via www.mixlr.com/chelsea-fancast