Full recording of the Chelsea Supporters' Trust Special General Meeting held in October…
The Chelsea Supporters' Trust held their first SGM of the season in the Atlas Pub recently.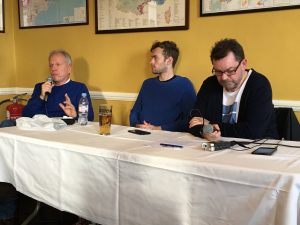 The Agenda covered subjects uppermost in Chelsea Supporters minds including the issue of Kick-Off times and their re-scheduling for TV covered by Tim Rolls. In addition Ramzi Shammas discussed the recent Annual Survey and plans for the survey next year; Cliff Auger discussed supporters issues and the recent unveiling of the Jack Whitley Memorial and plans for further work with Brompton Cemetery and Henry Fowler presented an update on our efforts with the campaign for Safe Standing.
Charles Rose, Chairman, Chelsea Pitch Owners also presented an update of the CPO's recent activities.
CST members were also given the chance to ask questions to the board.
The meeting was recorded and can be heard in full here: